Ceres Cebu North Bus Terminal NBT Schedule | MyBus Routes | 2023
Cebu NBT North Bus Terminal
Cebu North Bus Terminal NBT is located in SM City Cebu with buses including Ceres Transport, Aircon and Ordinary bus to Bacolod Negros Occidental via Tabuelan and Toledo, Bantayan Island, Daang Bantayan and Madridejos. Mybus SM Cebu has routes to BDO Anjo World, MCIA Mactan International Airport, Parkmall, SM Consolacion, SM Seaside City and Talisay.
Travelling today or planning for a future commute to and from Cebu NBT North Bus Terminal? Learn more about Cebu NBT Ceres, MyBus Bus Schedule. Find out how to commute to Cebu South Bus Terminal CSBT, Mactan Cebu International Airport, Pier
Select your Destination or Bus Terminal
NOTICE: The fares and schedules listed here may subject to change without prior notice. Pls check with the bus companies for the updated details.
CommuteTour is in no way affiliated with any of the buses listed on any of its pages.
Fare increase starting October 4, 2022
| Transport | New Min Fare | After 4km | After 5km |
| --- | --- | --- | --- |
| Traditional jeep | ₱12 | ₱1.80 | |
| Modern jeep | ₱14 | ₱2.20 | |
| Ordinary City Bus | ₱13 | | ₱2.25 |
| Ordinary Provincial Bus | ₱13 | | ₱1.90 |
| Aircon City Bus | ₱15 | | ₱2.64 |
| Aircon Provincial Bus (Deluxe) | ₱15 | | ₱2.10 |
| Aircon Provincial Bus (Super deluxe) | – | | ₱2.35 |
| Aircon Provincial Bus Luxury | – | | ₱2.90 |
LTFRB Fare Increase effective October 4, 2022
For exact fares, you may contact the bus operators directly: commutetour.com/travel/transport/bus/bus-contact-number/
Cebu North Bus Terminal NBT Map
Ceres Cebu North Bus Terminal Schedule
| Origin | Destination | Schedule | Fare | Notes | Bus |
| --- | --- | --- | --- | --- | --- |
| Cebu NBT | Bacolod North Terminal | 5:30 AM, 9:30 AM, 12:00 PM, 5:00 PM, 8:30 PM | 450 + 130 roro | Tabuelan | Ceres Liner |
| Cebu NBT | Bacolod South Terminal | 2:00 AM, 4:30 AM, 5:00 AM, 7:30 AM, 9:50 AM, 1:00 PM, 3:00 PM | | Toledo / San Carlos / Don Salvador | Ceres Liner |
| Cebu NBT | Bantayan Island | 2:15 AM, 3:15 AM, 5:00 AM, 7:30 AM, 8:30 AM, 9:15 AM, 12:15 PM, 6:45 PM, 9:15 PM | |  | Ceres Liner |
| Cebu NBT | Bantayan Island | 11:30 PM | | | Ceres Liner |
| Cebu NBT | Madridejos | 1:00 AM, 4:10 AM, 6:00 AM, 10:15 AM, 11:15 AM, 1:15 PM, 7:45 PM, 10:15 PM | |  | Ceres Liner |
Ceres Cebu North Bus Terminal Schedule
SM City Cebu MyBus Terminal Schedule
| Schedule | Route |
| --- | --- |
| 6:00 AM – 10:00 PM | Anjo World to Parkmall via SM City Cebu |
| 6:00 AM – 10:00 PM | Parkmall to Anjo World via SM City Cebu |
| 6:00 AM – 11:00 PM | SM City Cebu to MCIA Mactan Cebu International Airport |
| 8:00 AM – 9:30 PM | SM City Cebu to SM Consolacion |
| 6:00 AM – 11:00 PM | SM City Cebu to SM Seaside |
| 6:00 AM – 11:00 PM | SM Seaside to SM City Cebu |
| 6:00 AM – 11:00 PM | Talisay to Parkmall via SM City Cebu |
Cebu Transit Map
Joseph Ricafort designed a Transit Map of Cebu jeep routes with codes to help travellers navigate Cebu. You can also check the details routes by code below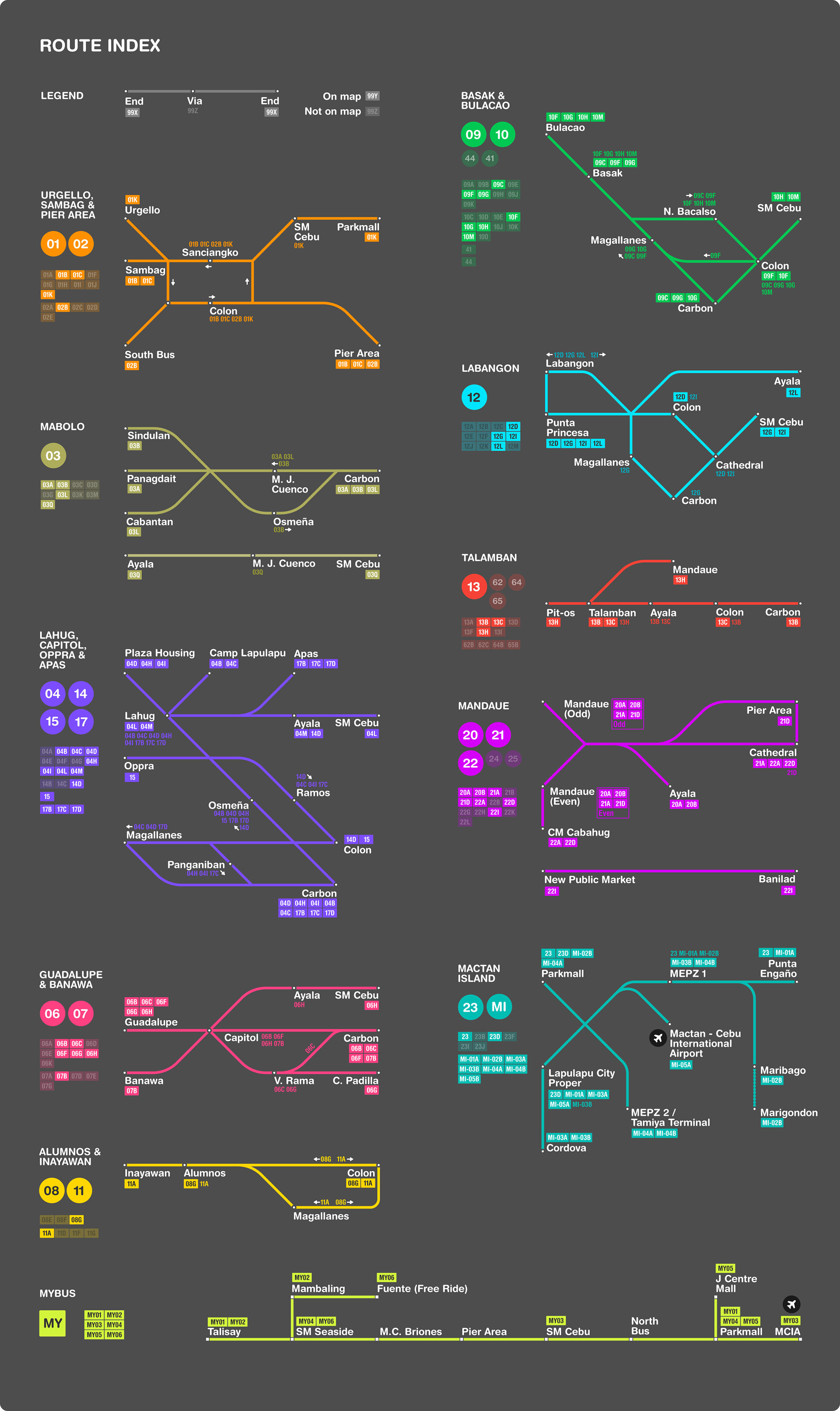 Cebu City Jeep Route Code
| Route Code | Origin | Destination | Other Routes |
| --- | --- | --- | --- |
| 01C | Private | Colon | Urgello, Pier |
| 01K | Urgello | Parkmall | Colon, SM & NBT |
| 02B | South Bus Terminal | Colon | Pier |
| 03A | Mabolo | Carbon | Panagdait & Manalili |
| 03B | Mabolo | | |
| 03L | Mabolo | Carbon | |
| 04B | Lahug, Plaza Housing | Carbon | |
| 04H | Lahug, Plaza Housing | Carbon | Capitol & Jones |
| 04I | Lahug, Plaza Housing | | |
| 04L | Lahug, Plaza Housing | Ayala | SM |
| 04M | Lahug | Ayala | |
| 06B | Guadalupe | Carbon | Jones |
| 06C | Guadalupe | Carbon | |
| 06G | Guadalupe | C Padilla | |
| 06H | Guadalupe | SM | |
| 07B | Banawa | Carbon | Capitol & Jones |
| 08G | Alumnos | Colon | |
| 09C | Basak | Colon | |
| 09F | Basak | Plaridel | |
| 09G | Basak | Colon | Magallanes |
| 10F | Bulacao | Colon | |
| 10G | Pardo | Magallanes | |
| 10H | Bulacao | SM | |
| 10M | Bulacao | SM | Colon |
| 11A | Inayawan | Colon | |
| 12D | Labangon | Colon | |
| 12G | Labangon | SM | Colon Pier |
| 12I | Labangon | SM | Colon & North Bus Terminal |
| 12L | Labangon | Ayala | |
| 13B | Talamban | Carbon | |
| 13C | Talamban | Colon | Echavez |
| 13H | Pit-os | Mandaue Public Market | |
| 14D | Ayala | Colon | Ramos |
| 17B | Apas Lahug | Carbon | |
| 17C | Apas Lahug | Carbon | |
| 17D | Apas Lahug | Carbon | Taboan |
| 20A | Mandaue | Ayala | |
| 21A | Mandaue | Cathedral | |
| 22A | Mandaue | Cathedral | |
| 22D | Mandaue | Cathedral | |
| 22I | Mandaue | Gaisano Country Mall | |
| 23- | Parkmall | | |
| 23D | Parkmall | Opon | |
| 62B | Pit-os | Carbon | Colon |
| MI-01A | Mactan | | |
| MI-02B | Mandaue | Parkmall | |
| MI-03A | Cordova | Lapu Lapu | |
| MI-03B | Mactan | | |
| MI-04A | Mactan | Tamiya | |
| MI-04B | Mactan | | |
| MI-05A | Mactan | Opon | |
Cebu Route Codes Jeep and Modern Jeep