Cibus Bus Schedule | Cebu Interim Bus Service | Cibus Cenu Route | 2023
Cibus Cebu
Cibus Terminals are located in Ayala Center Cebu, Cebu Capitol, Cebu IT Park, CSBT, E Mall, Fuente Osmeña Circle, Il Corso, Lantaw SRP, Mactan New Town, Mambaling Flyover, MEPZ Gate 3, Pacific Mall, Parkmall, Pier 3, Robinsons Galleria, SM City Cebu, SM Seaside
Cibus Contact Number
You can contact Cibus at these mobile / landline numbers or via Facebook:
Cibus Contact Number:
Terminal: Ayala Center Cebu, Cebu Capitol, Cebu IT Park, CSBT, E Mall, Fuente Osmeña Circle, Il Corso, Lantaw SRP, Mactan New Town, Mambaling Flyover, MEPZ Gate 3, Pacific Mall, Parkmall, Pier 3, Robinsons Galleria, SM City Cebu, SM Seaside
Facebook: https://www.facebook.com/ILCorsoLifemalls
Commutetour Page: https://commutetour.com/travel/transport/bus/cibus
NOTICE: The fares and schedules listed here may subject to change without prior notice. Pls check with the bus companies for the updated details.
CommuteTour is in no way affiliated with any of the buses listed on any of its pages.
Fare increase starting October 4, 2022
| Transport | New Min Fare | After 4km | After 5km |
| --- | --- | --- | --- |
| Traditional jeep | ₱12 | ₱1.80 | |
| Modern jeep | ₱14 | ₱2.20 | |
| Ordinary City Bus | ₱13 | | ₱2.25 |
| Ordinary Provincial Bus | ₱11 | | ₱1.90 |
| Aircon City Bus | ₱15 | | ₱2.64 |
| Aircon Provincial Bus (Deluxe) | ₱15 | | ₱2.10 |
| Aircon Provincial Bus (Super deluxe) | – | | ₱2.35 |
| Aircon Provincial Bus Luxury | – | | ₱2.90 |
LTFRB Fare Increase effective October 4, 2022
For exact fares, you may contact the bus operators directly: commutetour.com/travel/transport/bus/bus-contact-number/
Cibus Bus Terminal
Cibus Terminals are located in Ayala Center Cebu, Cebu Capitol, Cebu IT Park, CSBT, E Mall, Fuente Osmeña Circle, Il Corso, Lantaw SRP, Mactan New Town, Mambaling Flyover, MEPZ Gate 3, Pacific Mall, Parkmall, Pier 3, Robinsons Galleria, SM City Cebu, SM Seaside
Cibus Bus Schedule
| Origin | Destination | Schedule | Fare | Bus |
| --- | --- | --- | --- | --- |
| Ayala Center Cebu | Cebu Capitol | 5:30 AM to 9:30 PM | | Cibus |
| Ayala Center Cebu | Cebu IT Park | 5:30 AM to 9:30 PM | | Cibus |
| Ayala Center Cebu | CSBT | 5:30 AM to 9:30 PM | | Cibus |
| Ayala Center Cebu | E Mall | 5:30 AM to 9:30 PM | | Cibus |
| Ayala Center Cebu | Fuente Osmeña Circle | 5:30 AM to 9:30 PM | | Cibus |
| Ayala Center Cebu | Il Corso | 5:30 AM to 9:30 PM | | Cibus |
| Ayala Center Cebu | Mambaling Flyover | 5:30 AM to 9:30 PM | | Cibus |
| Ayala Center Cebu | SM Seaside | 5:30 AM to 9:30 PM | ₱26 | Cibus |
| Cebu Capitol | Ayala Center Cebu | 5:30 AM to 9:30 PM | | Cibus |
| Cebu Capitol | Cebu Capitol | 5:30 AM to 9:30 PM | | Cibus |
| Cebu Capitol | Cebu IT Park | 5:30 AM to 9:30 PM | | Cibus |
| Cebu Capitol | CSBT | 5:30 AM to 9:30 PM | | Cibus |
| Cebu Capitol | E Mall | 5:30 AM to 9:30 PM | | Cibus |
| Cebu Capitol | Fuente Osmeña Circle | 5:30 AM to 9:30 PM | | Cibus |
| Cebu Capitol | Il Corso | 5:30 AM to 9:30 PM | | Cibus |
| Cebu Capitol | Mambaling Flyover | 5:30 AM to 9:30 PM | | Cibus |
| Cebu IT Park | Ayala Center Cebu | 5:30 AM to 9:30 PM | | Cibus |
| Cebu IT Park | Cebu Capitol | 5:30 AM to 9:30 PM | | Cibus |
| Cebu IT Park | CSBT | 5:30 AM to 9:30 PM | | Cibus |
| Cebu IT Park | E Mall | 5:30 AM to 9:30 PM | | Cibus |
| Cebu IT Park | Fuente Osmeña Circle | 5:30 AM to 9:30 PM | | Cibus |
| Cebu IT Park | Il Corso | 5:30 AM to 9:30 PM | | Cibus |
| Cebu IT Park | Mambaling Flyover | 5:30 AM to 9:30 PM | | Cibus |
| Cebu IT Park | SM Seaside | 5:30 AM to 9:30 PM | | Cibus |
| CSBT | Cebu IT Park | 5:30 AM to 9:30 PM | | Cibus |
| E Mall | Cebu IT Park | 5:30 AM to 9:30 PM | | Cibus |
| Fuente Osmeña Circle | Cebu IT Park | 5:30 AM to 9:30 PM | | Cibus |
| Il Corso | Cebu IT Park | 5:30 AM to 9:30 PM | | Cibus |
| Mambaling Flyover | Cebu IT Park | 5:30 AM to 9:30 PM | | Cibus |
| SM Seaside | Ayala Center Cebu | 5:30 AM to 9:30 PM | ₱26 | Cibus |
| SM Seaside | Cebu IT Park | 5:30 AM to 9:30 PM | | Cibus |
| SM Seaside | CSBT | 5:30 AM to 9:30 PM | | Cibus |
| SM Seaside | E Mall | 5:30 AM to 9:30 PM | | Cibus |
| SM Seaside | Fuente Osmeña Circle | 5:30 AM to 9:30 PM | | Cibus |
| SM Seaside | Il Corso | 5:30 AM to 9:30 PM | | Cibus |
| SM Seaside | Mambaling Flyover | 5:30 AM to 9:30 PM | | Cibus |
| SM Seaside | SM Seaside | 5:30 AM to 9:30 PM | | Cibus |
Cibus Bus Schedule
Cibus Bus Route Map
Il Corso SRP to Cebu IT Park
Lantaw SRP to Mactan New Town Route
Parkmall / City Time Square
CICC Backgate
Seaoil
Longwin
Sentro Mandaue
Cortes Hospital
St. Jude Funeral
Complex
Pacific Mall
Total Un. Avenue
Umapad
Pusok Elem. School
Marina Mall
MEPZ Gate 3
MEPZ Gate 4
Carmelite/Saac Market
BigFoot
Mactan New Town
BigFoot
Carmelite/Saac Market
MEPZ Gate 4
MEPZ Gate 3
Marina Mall
Pusok Elem. School
Umapad
Total Un. Avenue
Pacific Mall
KFC/Caltex
Metro Park
Highway
SMB
Tipolo Waiting Shed
Land Bank
Wireless
BIR/Ginebra
Metro Bank/VIC Enterprises
Isuzu
Nissan
Robinsons Galleria
Pier 3
Plaza Independencia
KKD
SM Seaside
City di Mare
Gaisano
U-Turn Point
Lantaw South Terminal
IL CORSO
Pier 1/Plaza
Pier 3
Robinsons Galleria
Nissan
Isuzu
SM City
Hypermarket
NBT
Jollibee
UC Med
Chong Hua
Parkmall/City Time Square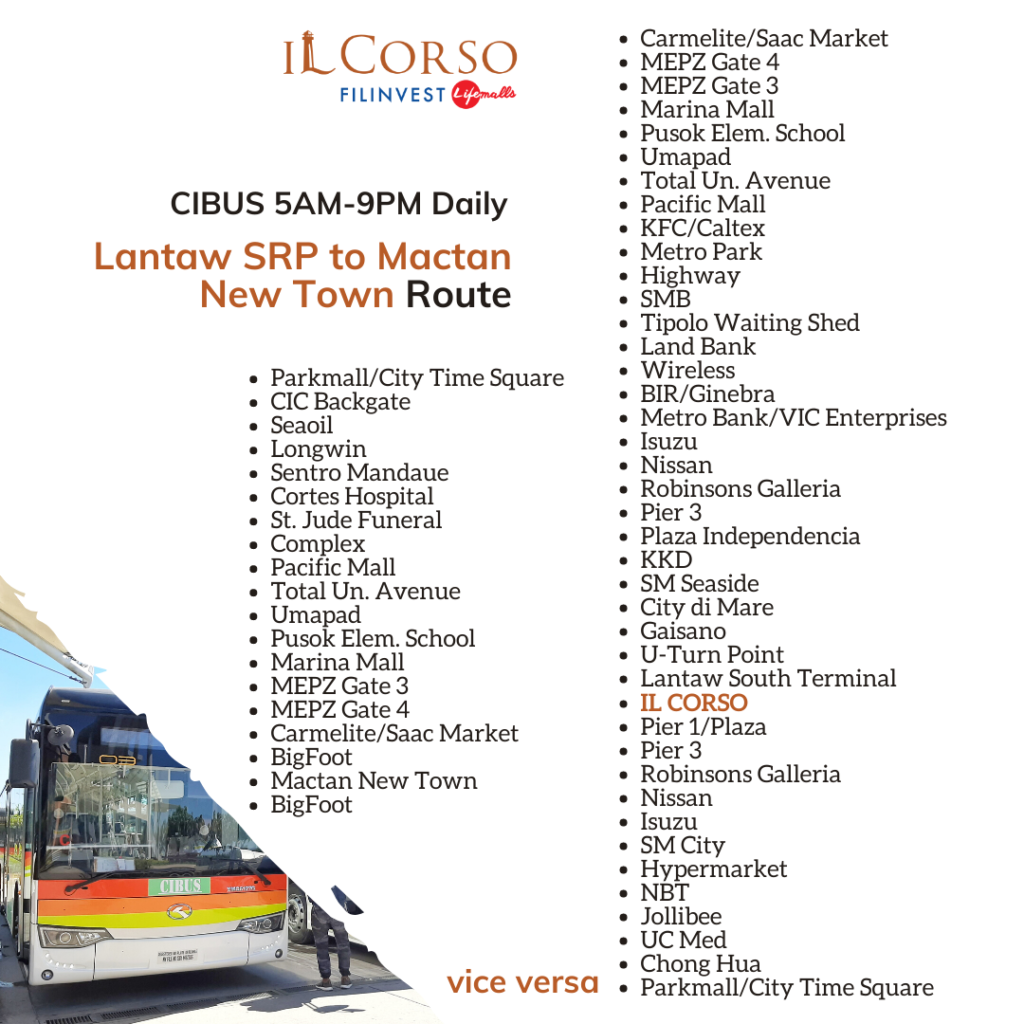 Select your Destination
Tourist Destinations
Halad Museum
Sugbu Museum
Taoist Temple
Temple of Leah
The Heritage of Cebu Monument
University of the Philippines Cebu
Hotels
Golden Peak Hotel
GV Tower Hotel
Harolds Hotel
Marco Polo Hotel
Inns
Malls & Market
Carbon Public Market
Escario Central Mall
Gaisano Grand Mall
Gaisano Jai Alai
Landers
Jy Square Mall
Mactan Marina Mall
New Mandaue Public Market
Parkmall
Robinsons Place
Savemore
Shopwise
SM Cebu City Seaside
Gov't Centers
Cebu Terminals
Mactan Cebu International Airport
Pier 1, 2, 3, 4, 5